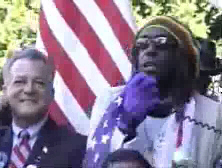 Ted Hayes at Rally to pardon Border Patrol agents Ignacio Ramos and Jose Campeon, January 13, 2007 at the Los Angeles ICE Building. Also talks about Black America waking up to the illegal alien invasion.
Black and White Patriots,

Minutemen Ted Hayes & Jim Gilchrist

The rally was a complete success In spite of Sarah Knopp and her Communist goons who failed at disrupting the event.