Los Angeles County Finally Gets it on deporting illegal alien gang members.

It took years of effort on the part of anti-crime activists like Hal Netkin to get the the Los Angeles County Supervisors to agree with the no-brainer of deporting illegal alien gang member jail inmates. Watch Hal Netkin's
address
to the county supervisors on June 15, 2004. All L.A. County Supervisors have given a virtual invitation to illegal alien gang members, especially
Gloria Molina
, Mike Antonovich has been the only Supervisor seek the deportation of known illegal alien jail inmates.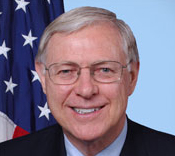 Los Angeles County Supervisor Mike Antonavich

entered into Watchdog America's Hall of Heros.