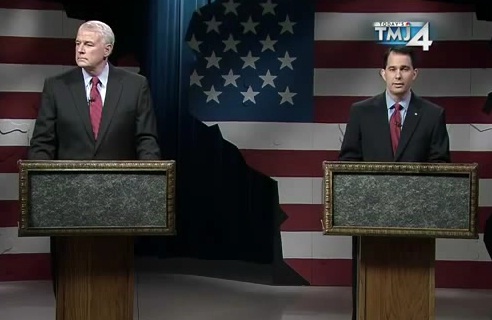 THE FUTURE OF AMERICA WILL BE INFLUENCED

BY THE OUTCOME OF THIS MOST IMPORTANT DEBATE



Since 2010, Wisconsin has been ground zero in the battle for the political future of America. Fed up with ever increasing entitlement spending and debt burdens spiraling their taxes out of control, they voted for a new governor who worked to restore fiscal sanity by balancing the budget and taking back control from the unions who ruled the state.

Undeterred, the unions and their leftist allies launched a recall election to oust Governor Walker. Millions of dollars been brought in by out of state unions and Democrats to gather signatures and register new voters.

After a brilliant showing in a debate against his Democrat challenger, Tom Barrett, polls show that Governor Walker is ahead.

Not having any of his own solutions to fixing fiscal policy, Barrett resorted to personal attacks against Walker. Walker did not respond to his opponent's attacks, but continued to emphasized the positive results of his governance.

While all indications are that Walker will win this election, he could still lose if the unions and their allies are successful in recruiting large blocks of "gimmee free stuff" voters.

Wisconson Recall Election: Tom Barrett VS Governor Scott Walker